Aside from how important queer representation in the media is, it's also something that fascinates me. And part of that discussion, routinely, is who gets to play these characters. In an ideal world, where any queer person would be considered evenly for any role alongside cisgender and straight actors, that shouldn't matter. But that's not the world we live in. It stands to reason, that if transgender actors wouldn't get considered for cisgender characters, the the reverse should be true. That's often not the case even now. So, let's take a moment to consider what it must have been like to be a transgender actor in the 1970's.
Carol Byron was born in Balmain, New South Wales, Australia on September 2, 1943. She was assigned the male gender at birth and named "Richard" by a mother who ultimately abandoned her four months later, placing her child in the care of a woman named Hazel Roberts. Her new mother enjoyed teaching her song and dance routines. At eleven years old, however, her mother Evelyn came back into the picture with a new husband, and took custody of their son. This new stepfather physically abused their kid. Carol dropped out of school at 15 years old, and began working, taking a job putting makeup on mannequins and arranging the displays at David Jones. A year later, she ran away from home to avoid the abuse — but continued her job. At the age of seventeen, she took on the name Carol and began transitioning to live life as a woman.
She was arrested for crossdressing, but actually beat the charge based entirely on being flippant. Not a strategy I recommend, but when she came before the judge she asked what the "offensive behavior" was — the judge explained, dressing as a woman. And she responded, "You have a wig and robe on." The case was dismissed.
She took on the stage name Carlotta, apparently from Empress Carlota of Mexico (who I will admit I know almost nothing about) and set about establishing herself. About this time, Lee Gordon — an promoter with a resume that included names like Elizabeth Taylor and Judy Garland — was opening what may have been Australia's first drag club, the Jewel Box Revue Club in King's Cross, Sydney. They hired Carlotta as a performer. Before too long, the club changed its name to Les Girls Restaurant and kept Carlotta on for its Les Girls caberet act. The cast was advertised as exclusively men in drag, though some — like Carlotta — were transgender women. Carlotta quickly became the star of the show. Because of that, she earned the nickname "Queen of the Cross". Although Gordon was no longer one of the owners at this point, he continued helping Carlotta as her manager.
In 1970, she had her first film appearance — credited as appearing as herself in a movie called The Naked Bunyip. This wasn't exactly a big break, but it did open some doors. The movie was, apparently, fairly influential. One of those doors was for her to be cast as Miss Robyn Ross on a show called Number 96 — a show that had already broken ground with gay character Don Finlayson (played by Joe Hasham) the year before. The character of Robyn Ross was the new girlfriend of character Arnold Feather (played by Jeff Kevin), and appeared in four episodes in 1972. Ultimately, it was revealed that she was a transsexual showgirl — a fact which led to the end of the romance, and the end of her storyline on the series. Here's her "coming out" scene — the language is, obviously, not what we would currently use. To keep this scene, and the end of this storyline a surprise, her scenes were all shot on a closed set and she was initially credited as "Carolle Lea".
Four episodes, of course, doesn't seem like a big deal. Especially on a soap opera, which churns out new episode practically every day. But these four episodes were a very big deal because they were the first time that a transgender person played a transgender character on television anywhere in the world.
Afterwards Carlotta decided to undergo sex reassignment surgery (also known, now, as a gender confirmation surgery). Prior to the surgery, a board attempted to cure her — putting her through torturous testing including electric shock therapy on her, though she tore the wires off of her. She also, reportedly, threw a shoe at the doctors engaging in the tests. The feisty outburst worked and she was able to get the surgery. She was not, as is sometimes reported, the first person in Australia to have the procedure. She was, however, the first person in Australia that was publicly reported as having the procedure.
Some time afterwards, she was invited to do a drag performance in London. She jumped at the opportunity, the show was hugely successful, but found she didn't enjoy it and soon returned to Australia. Where she married a guy who's name is nowhere to be found but since I see some places where her name is reported as Carol Spencer so I'm guessing his last name was Spencer. She tried out a life of "domestic bliss" as a housewife, but it doesn't last too long.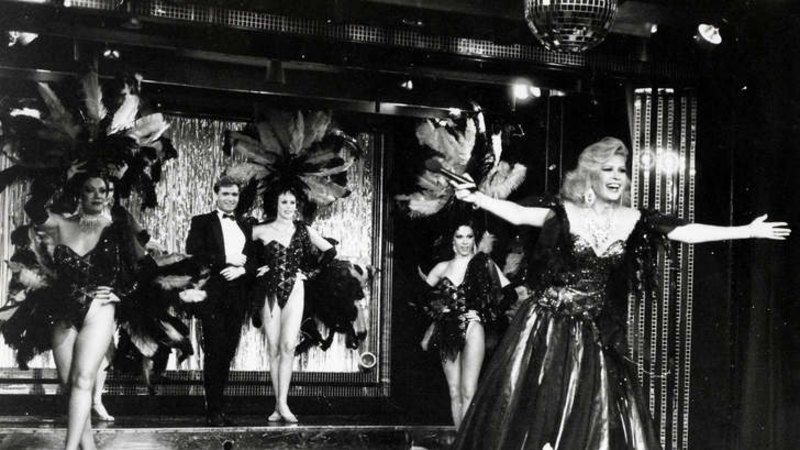 Carlotta showed up on film again in 1982 playing Ron in a movie called Dead Easy. I don't know if that character was transgender or not, it's a fairly minor role and I haven't seen the film.
In 1987, she toured New Zealand with a touring production of Les Girls. Short after that, her marriage ended — she left him so that he could have the opportunity to become a parent. So she resumed working at Les Girls until 1992. With her off and on career with them, she had performed with them for an impressive 26 years.
In 1994, she published her first book — He Did it her Way: The Legend of Les Girls with James Cockington. That was the same year the iconic movie The Adventures of Priscilla, Queen of the Desert was released. Carlotta was one of the inspirations behind the movie — and it, in turn, inspired her. She attempted to start her own show: Carlotta & Her Beautiful Boys which launched in 1996. This was a popular show but not a financial success and ended up bankrupting her after three years.
But Carlotta is not a woman who can be kept down. In 1997, she began appearing as a recurring panelist on the show Beauty and the Beast. (I'm linking to the Wikipedia page on this one because, personally, I was a little confused when that didn't have to do with fairy tales and talking furniture.) On the show, the panelists answer letters from viewers and Carlotta's life up to that point made her invaluable to the show. Kids, particularly queer kids, from all over Australia wrote the show specifically in the hopes of getting her advice. Here's a clip of her on the show in 2001 (not talking about queer issues though, I can't find any clips of that.)
She was popular on Beauty and the Beast and that led her to more appearances as a television personality. In 2003, she appeared on the short-lived comedy talk show Greeks on the Roof. She also published another book, entitled Carlotta: I'm not that Kind of Girl. Two years later, Carlotta launched a show that was a half-million dollar production based on her recent book Carlotta's KingsX. She subsequently appeared on Good Morning Australia and on the music quiz show Spicks and Specks.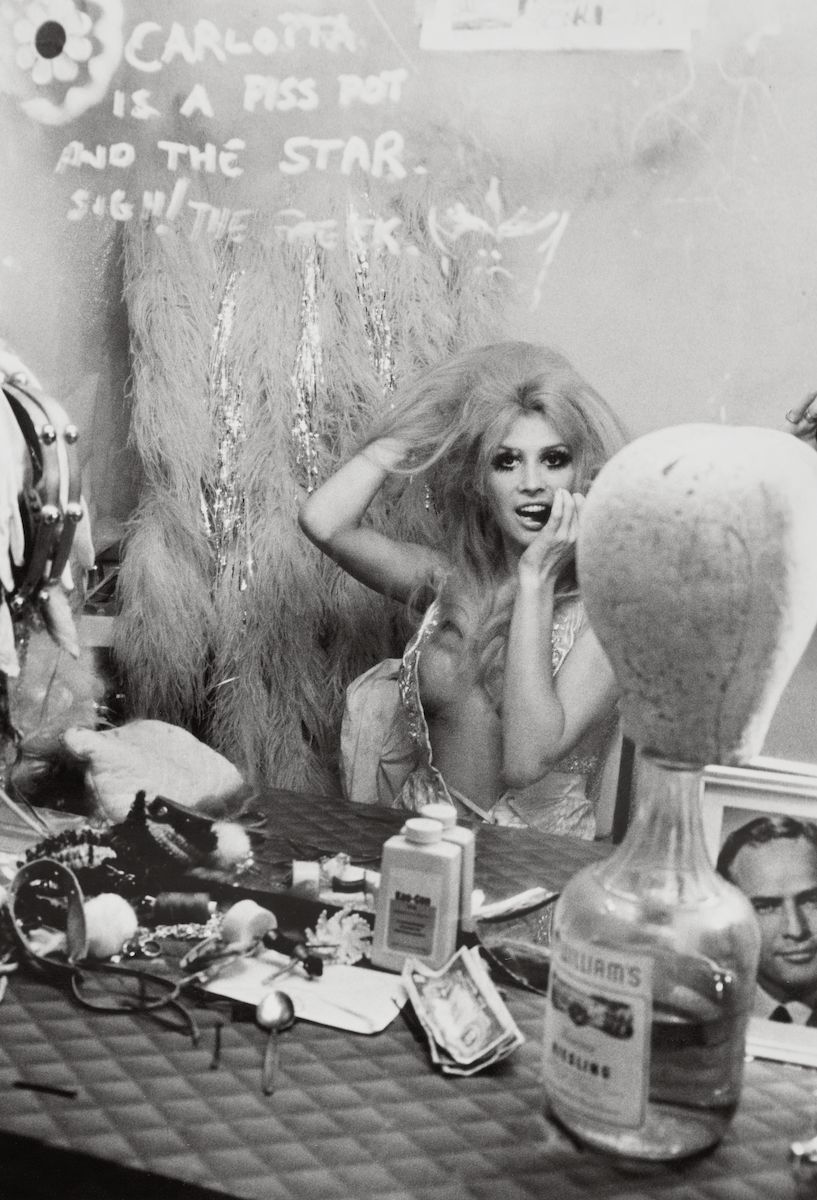 Also in 2005, the cast of The Naked Bunyip reunited for a short video "In a Funny Sort of Way" which discussed the movie and its impact on Australian cinema. So, 2005 was a very busy year for Carlotta. In 2006, she appeared in four episodes of the documentary series 20 to 1. That was also the year that Australian National Portrait Gallery purchased a portrait of Carlotta and incorporated it into their collection.
Carlotta later launched a touring one-woman show called Carlotta: Live and Intimate. In 2013, she began appearing as a regular guest panelist on the morning news show Studio 10. The following year, a made-for-TV movie about her life was made called Carlotta. The film was criticized for only hinting at the harsher parts of Carlotta's life as a transgender woman. Carlotta was played by cisgender actor Jessica Marais and while I would like to criticize that choice, but Carlotta was actually involved in the casting.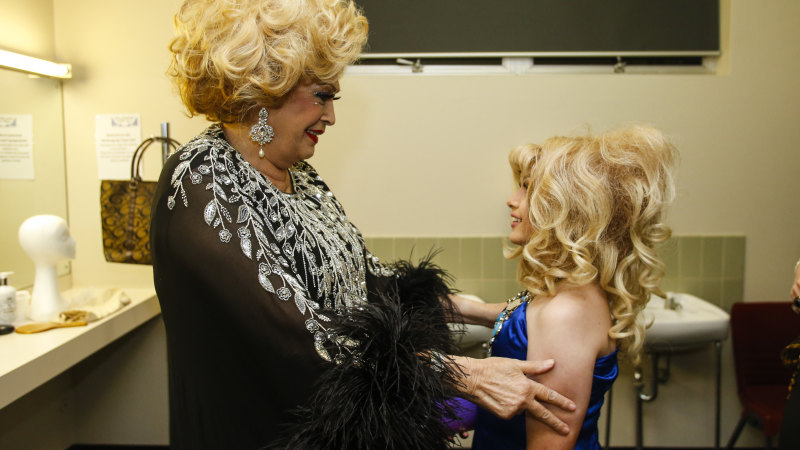 In 2018, she was diagnosed with bladder cancer. Her doctors caught it early, performed surgery, and she made a full recovery and jumped right back into her career. In 2019, she continued touring with her musical revue Carlotta: Queen of the Cross which features a wide variety of music, especially from other queer artists like Peter Allen (whom she had been friends with) and Stephen Sondheim.
On January 26, 2020 she was awarded the Medal of the Order of Australia for services to the LGBTQ+ community and to the performing arts. Although this is the most recent and most impressive recognition Carlotta has received for her decades of work, she's also been recognized with the King's Cross Award, the Drag Industry Variety Award (in 1997) and a Australian Club Entertainment Lifetime Achievement Award (in 2018). That last one may have to get given to her again, as Carlotta is still performing, and no doubt has much more that she will achieve.