As I'm sure you all know, if you've been reading this site for a while, there's a lot of riots in queer history. Today, I'm going to tackle another — the White Night Riots of May 21, 1979.
I do have to start with a little backstory, so let's rewind a bit. There's a whole long very gay history going back to the founding of San Francisco but I'm not going to go back there (today, anyways) — suffice it to say that San Francisco was considered something of a haven for LGBTQ+ people in the United States, particularly gay men. An estimated 25% of the city's population was LGBT. That didn't change the laws of the country, though, and being openly gay in San Francisco still led to being arrested, losing your job, etc — it just meant there was a louder, larger community that had your back if those things happened. Which, of course, meant that there had been more than a couple mostly peaceful conflicts between the police and the queer community of San Francisco.
In 1972, Harvey Milk moved to San Francisco and opened Castro Camera, and — with political expertise and a lot of charisma — quickly became one of the leaders of the gay community of the city, which was centered in the Castro District (and I believe still is). In that position, Milk ultimately made himself very unpopular with the police — after one incident on Labor Day in 1974 where police beat dozens of gay men on Castro Street, and arrested 14 of them for "obstructing the sidewalk", Milk hit them with a lawsuit for $1.375 million. In 1977, Milk won an election to the city Board of Supervisors (making him the first openly gay person elected to any office in the United States, yes, and I'd focus on that more but really it needs its own post.)
Also on the Board of Supervisors was Dan White — a former police officer who now owned a restaurant. He was a conservative in a city that was turning more and more liberal, and his restaurant was having serious financial problems. He resigned on November 10, 1978. Shortly after that, he met with the Board of Realtors and the Police Officers' Association — both organizations encouraged him to ask for his position back, correctly realizing that his vote was essential in preventing more liberal policies that they opposed from being implemented in the city. So White asked for his position back — the liberals on the Board of Supervisors did not want him to get his position back. Milk and Supervisor Carol Ruth Silver led them in encouraging Mayor George Moscone not to reinstate White. And ultimately, on November 26, Moscone announced that he had agreed not to reinstate White. On November 27, White broke into the city hall through a basement window, went into the Mayor's office, argued with him and then shot him three times — twice in the head. He then went to his former office, called for Milk to join him there, and shot Milk four times — twice in the head. Their bodies were found by city supervisor Dianne Feinstein.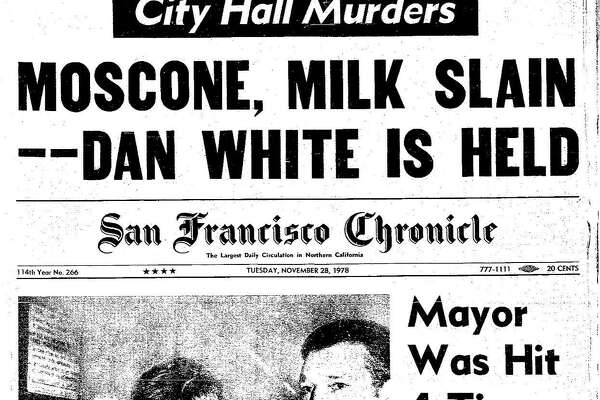 White was arrested, obviously, for the double homicide. The prosecutor, Thomas Newman, sought charges for first degree murder with special circumstances, so he could ask for the death penalty. Meanwhile the San Francisco police and fire departments raised $100,000 for White's defense, and they attended the trial wearing shirts that said "Free Dan". As this was going on, police attacks against the gay community began to gain momentum. In March of 1979, drunk off-duty members of the police squad attacked a lesbian bar called Peg's Place in the Richmond District of San Francisco. Tensions between the city's LGBTQ+ community and the police had never been higher.
The defense attorney, Douglas Schmidt, played a recording of Dan's confession to the jury where he ranted about the amount of pressure he was under — which some members of jury actually cried after hearing — and had a psychiatrist stated that White had diminished capacity due to a poor mental state. The evidence of this poor mental state was the amount of junk food he'd been eating — something which came to be known as the "Twinkie defense". The jury found White guilty of voluntary manslaughter, and was sentenced to seven years and eight months in prison with the possibility of early release.
News of the verdict reached the Castro Distract. Activist Cleve Jones announced the news to a crowd of about 500 people, saying "Today, Dan White was essentially patted on the back. He was convicted of manslaughter—what you get for hit and run. We all know this violence has touched all of us. It was not manslaughter. I was there that day at City Hall. I saw what the violence did. It was not manslaughter, it was murder." The people there were fairly convinced that the prosecution and the police had worked together to ensure White would not have a severe sentence (although Newman denied this until his death and no proof has ever come to light of such a conspiracy.)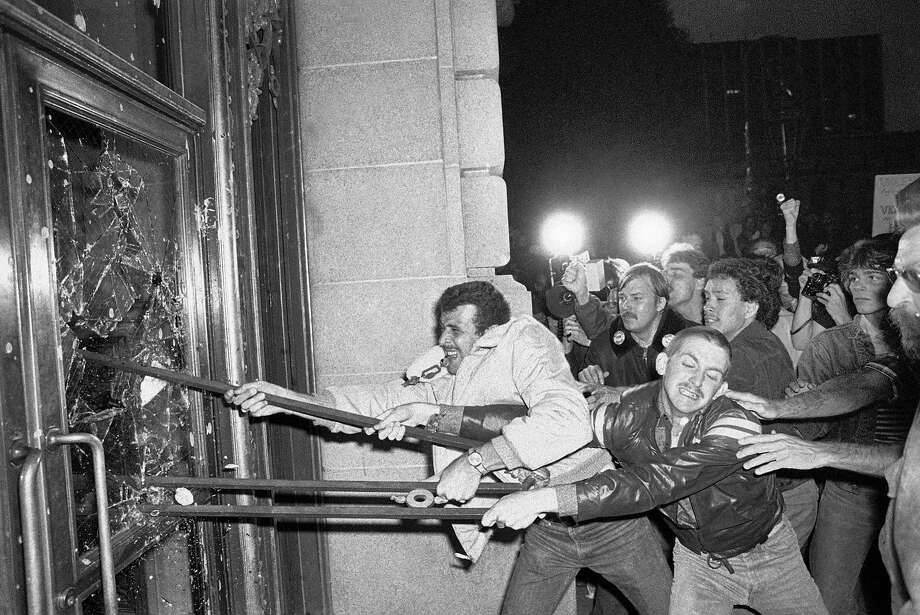 The crowd started marching, shouting "Out of the bars and into the streets" down Castro Street. Each time they passed a bar, people answered the call. They circled through the district until the crowd had roughly tripled in size — and then they started towards city hall. By the time they got there, the crowd was about 5,000 people. There were only a handful of police and they had not dealt with a crowd this large and angry before — they attempted to hold the mob back but to no avail. The crowd started vandalizing city hall, tearing gilded ornamental work off of the iron gates of the building and using them to bust open windows. Some activists attempted to calm things, including Milk's longtime partner Joseph Scott Smith.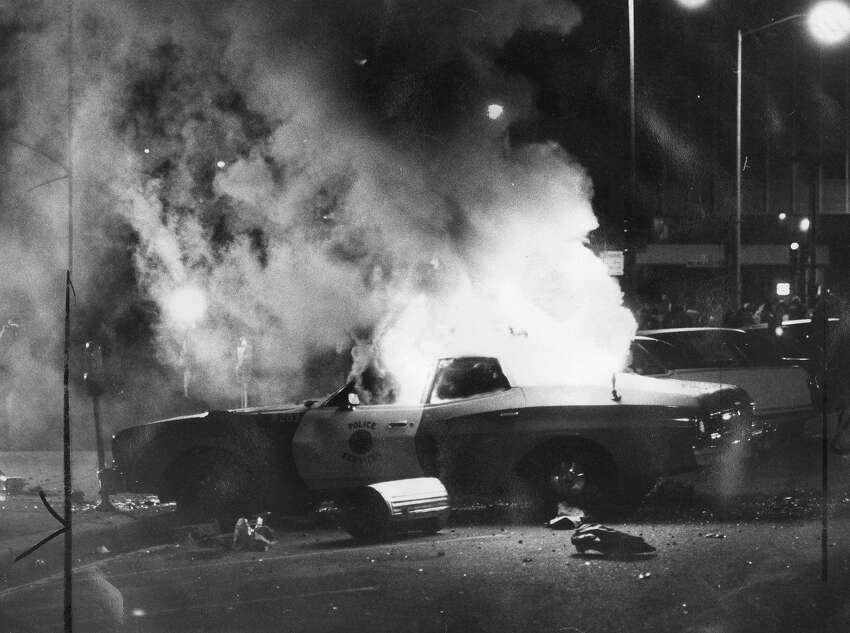 Police reinforcements arrived, attacking the crowd with nightsticks. (Absolutely exactly the wrong thing to do. This is ten years after Stonewall, they really should have known better.) The crowd started setting police cars on fire — ultimately, thirteen police cars and eight other vehicles would be set ablaze. As the last of the police cars was set on fire, the man who did it told a reporter on the scene "make sure you put in the paper that I ate too many Twinkies."
These burning cars became such an iconic symbol, that the punk rock band Dead Kennedys used a photograph of a burning police car from that night as the album cover of their debut album Fresh Fruit for Rotting Vegetables in 1980. Members of the crowd also stole tear gas cannisters from these police vehicles, and threw them at the police. The crowd pulled down the cables for the trolleys, disabling them.
Inside city hall, Police Chief Charles Gain — at that moment the most gay friendly police chief in the city's history (and one of the most hated by his subordinates) ordered his men to stand their ground but not to attack the crowd. Meanwhile, Mayor Dianne Feinstein and Supervisor Carol Ann Silver attempted to calm down the crowd by sympathizing with them — Silver even stated "Dan White has gotten away with murder. It's as simple as that." Some sort of object, can't find good records as it what it was, got thrown at Silver, injuring her.
After three hours of rioting, the police launched a full offensive — their badges covered with black tape to hide their identities (sound familiar?), particularly as they were not following orders. They also used tear gas — but the rioters fought back, using anything they could get their hands on as a weapon, including pieces they tore off of city buses and pieces of asphalt they ripped out of the street itself. Nevertheless, the crowd did eventually disperse.
And then the police defied their orders from Chief Gain and attacked the Castro District in retaliation — they began at a bar called the Elephant Walk, which they vandalized — breaking windows and beating the patrons inside. After fifteen minutes, they left the bar and began indiscriminately attacking people in the streets of the district. This carried on for two hours before Chief Gain heard about it and went to the Elephant Walk. Upon seeing the damage, he immediately ordered the police to withdraw.
Mike Weiss — a freelance reporter who had been covering the trial of Dan White and would publish the book Double Play: The San Francisco City Hall Killings in 1984 — stated that he encountered a couple of police officers at a bar later that night, drinking and laughing. One officer reportedly told him, "We were at City Hall the day the killings happened and were smiling then. We were there tonight and we're still smiling." Now, it's true that Weiss is the only source for this, but he did win a Pulitzer for his coverage of the Baltimore riot in 1968 so he does have some credibility.
The rioting caused hundreds of thousands of dollars of property damage in just a few hours. Adjusted for inflation it's estimated this damage would have been over a million dollars were it to happen today — making this, as far as I know, the most expensive riot in queer history. Certainly putting the Stonewall Riots to shame. Aside from the property damage, 140 protesters were injured — with 100 of those needing to be hospitalized — as well as about 61 police officers.
The next day, the leaders of the gay community in San Francisco held a press conference. The media was expecting that these officials would condemn the violence and apologize. Instead, Harry Britt, who had replaced Milk as city supervisor for the Castro district, issued this statement: "Harvey Milk's people do not have anything to apologize for. Now the society is going to have to deal with us not as nice little fairies who have hairdressing salons, but as people capable of violence. We're not going to put up with Dan Whites anymore." They made it abundantly clear to the people of the Castro that no one was ever to apologize for the riot at all. As of this day, no one has — of course, neither have the police.
That night, an estimated 20,000 people rallied in the Castro District. May 22 was Milk's birthday, so the rally had been planned long before the rioting. The rally managed to stay peaceful, although the entire city was tense. If anything, Cleve Jones can be credited with keeping it that way — laying out contingency plans, coordinating with Chief Gain, and having 300 monitors to keep an eye on the crowd. However, the point of the rally originally had been to have a celebration of Milk's life and that had not changed. Despite the underlying anger, there was still plenty of dancing and partying in the streets.
A grand jury was convened to determine who had ordered the attack on the Elephant Walk — but there was no real evidence, so it remains a mystery. No officers ever faced consequences for the police action. With Feinstein looking to win a full term election as mayor, she spent a lot of money campaigning in the Castro district — courting the still politically powerful gay community. Her primary promise to them was to appoint more gay people into public offices. After her election, she kept this promise — even replacing Chief Gain with the openly gay Cornelius Murphy. Murphy overturned some of Gain's less popular policies (namely, the colors that police cars were painted) which won him some popularity with the police force, but insisted on progressive policies regarding the gay community. By the following year, one out of every seven new police recruits in San Francisco was gay or lesbian.
The riots had received national attention and, if anything, stressed the need for minorities to be represented in government. Gay and lesbian people began to be elected or appointed to public office all over the country. The legacy of those riots lasted for decades. In 2009, fearful of what the verdict might be, as the California Supreme Court deliberated on the case of Strauss v. Horton, the then Mayor of San Francisco Gavin Newsom asked the court not to announce their decision on May 21. Although the court actually decided in favor of LGBTQ+ rights, they still agreed not to publicly announce their decision on the 30th anniversary of the riots, waiting until May 26.
Unfortunately, of all the things that have changed in the 41 years since the White Night Riots, police brutality in the United States is really not one of them. This week we've seen historic protests over this issue — and a lot of controversy about riots. We cannot, as a community, forget where we've come from. I'm not saying we all need to go out and start riots right now, but I am saying that our community already fought this battle with decades of rioting. There are people still fighting this battle, people our community has left behind. We need to support them now.
No justice, no peace.
And no apologies.